About the Climate Beneficial Fiber Partnership
The National Center for Appropriate Technology (NCAT) and its five Climate Beneficial Fiber project partners—Carbon Cycle Institute, Colorado State University, Fibershed, Seed2Shirt, and New York Textile Lab— are supporting the expansion of climate-smart wool and cotton production on at least 100 farms and ranches spread across 2 million acres. The project builds on the existing Climate Beneficial™ Verification program, which has a track record of growing America's ability to produce climate-smart fiber, regenerate our soils, and expand economic opportunities for wool and cotton growers. More than $18 million will be invested directly with wool and cotton producers in nine states.
Textile and apparel production accounts for up to 10 percent of global carbon emissions, and the industry is moving to meet market demand for improved climate impact across supply chains. Growing concerns about textile-derived microplastics, land-use impacts, and human rights have also prompted an industry-wide shift to seek natural fiber sources with verified benefits to land and climate.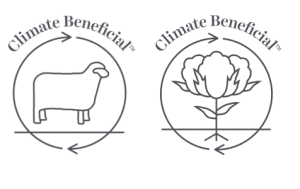 The project expands the existing Climate Beneficial fiber program, an established, market-proven system for sequestering carbon, regenerating soil health and resilience, improving social equity, and bolstering America's ability to produce fiber. The 20-year greenhouse gas impact of practices implemented on a share of the participating farms during the grant period is projected to be a reduction of at least three million metric tons of CO2. Other benefits will include reduced application of synthetic fertilizers, improved soil health, and increased soil organic matter, water-holding capacity, and enhanced resilience to a changing climate. A newly created, open-source, Carbon Farm Planning and Verification Platform will streamline climate-smart agriculture planning and verification for producers, verifiers, and supply-chain stakeholders alike. The project aims to meet the equity goals of the Justice40 Initiative and will prioritize engagement with traditionally underserved producers.
The funding for this partnership was made possible by USDA's Partnerships for Climate-Smart Commodities program.